PCB width
inch
PCB height
inch
Quantity
pcs
Prices for 2 layers 0.062" FR4 1 oz copper, Green Soldermask, White Legend. 4 days turnaround.
How to pack?
Our pack is very professional and safely for transportation, see the below: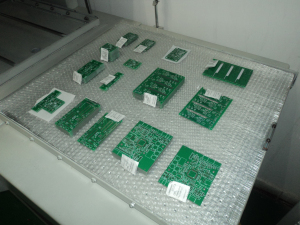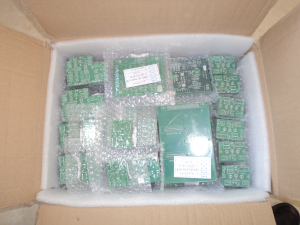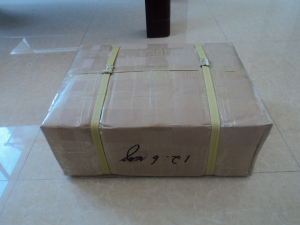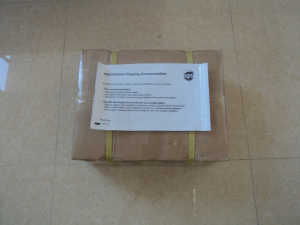 1)For urgent order we will send to you by FedEx/UPS/DHL, the best is you have COD account(collect account) so you can get cheaper price for freight. Normally this will take 2-3 days then parcel goes to your side.
2)If urgent order and you do not have COD account for freight then we'll use our FedEx/UPS/DHL to you. We offer freight to you as what price we get from FedEx/UPS/DHL, we DO NOT make money on Freight.
3)For not so urgent order we send by HK-DHL to you, this will take 5-7 days then parcel goes to your side, and this is the cheapest one but a little slow becasue we need time to send parcel from Shenzhen to HK.
4)For large volume, we use ocean shipping, it is cheap but slow.
How do I know the tracking number of shipment?
1)If you pay via Paypal, we must update a tracking number on Paypal and Paypal will email this tracking number to you. Please note the email will send to the box which you register on Paypal.
2)If you pay via T/T, we will send tracking number to you by email.
How long is my production run setup stored?

We store any production run fabrication setup for a minimum of 12 months from last used date and can be re-extended by another 12 months on reuse. If the customer does not use the setup again within 12 months, all tools will scrapping, customer needs to pay for setup again if repeat.
The PCB came in and it looks great! But where is my invoice?

For each parcel shipped out we will include 1 of our commercial invoice. Occasionally, custom officer may take all copies of the invoice thus leaving none in the parcel. When this happens, you can contact the salesperson in charge of your order and he/she will send a PDF version of the invoice.
I received the boards and I believe there are some fabrication mistakes. Can I get a replacement made?

Sometimes, we do make mistakes during CAM processing. We don't deny it happens - but we have recently brought the rate of mistake down to 1 in 1000 orders.
If you do receive a board that is not as specified in the PCB design file, do

e-mail

us and point out to us the discrepancy between the end PCB and given files. We will investigate on that matter and remake the PCB if we made an error. If you can include pictures to support your claim, that will also help in our remake/rework filing.
Over 90% of legitimate defect claims is entertained and remade. Kindly use a Gerber viewer to review the files sent to us prior to filing a claim. Claims can be filed by writing e-mail to us.
We did not correct number of boards ordered. Whom do I contact ?

Please

e-mail

the salesperson that handled your order to resolve the issue. Occasionally we make packaging mistakes. Chances are that we may have left out a few boards during packaging process. We can offer to send it in a new parcel or a credit towards your next order.